How To Pick A Water Cooler Dispenser?
There are certain factors that have a significant impact on the quality of the water dispenser and we'll be discussing them in this section of the article. Keep the following factors in mind as you're trying to find the best water cooler dispenser.
Capacity
For standard-sized water cooler dispensers that make use of water bottles, you will want to search for models that can hold big containers.
Ideally, the dispenser should be able to accommodate water bottles in the three to five gallon range. You want that not just because you won't have to replace the water bottles often, but also because it's much easier to find containers in those sizes.
Filter Lifespans for Bottleless Models
You obviously don't have to worry about water bottle sizes if you have a bottleless model. What you need to focus on instead is how long the filters installed can last. Filters that can last for about six months are preferred.
Standing or Countertop Model
Standing water cooler dispensers are better to have because they can usually provide more water, but if you don't have the space for one, seek out a countertop bottleless model to use at home.
Safety Features
The most important safety feature for any water dispenser is a child lock on the hot water spout. You absolutely do not want kids getting scalded accidentally and the aforementioned feature will prevent that from happening.
Material Used
Stainless steel is the material of choice for water cooler dispensers. Stainless steel is better because it's more durable and on top of that, cleaning a dispenser made out of that material is an easier process.
Water Cooler Dispenser Review
Avalon A3 – Best Water Cooler Dispenser
Avalon is one of the best-known brands when it comes to water cooler dispensers and you'll quickly understand why that's the case when you get the chance to use their bottom loading water dispenser.
Bottom Loading: Thanks to this being a bottom loading model, you can just open it up and place the water bottle effortlessly. It can hold water bottles that range in size from three to five gallons.
3 Water Setting: After turning this dispenser on, you will be able to select from three distinct temperature settings. One gives you hot water, the other one provides slightly cooler than room temperature water, and the last setting pours really cold water into your glass.
You can tweak those temperature settings further if you want to.
Durability: The stainless steel housing makes this dispenser very durable. Even if you forget to clean it for a while, the self-cleaning feature has you covered.
Safety Features: It has a child safety lock for the hot water spout and it is also Energy Star approved.
The only real downside to it is that it runs somewhat noisy, but that's an issue you can easily deal with.
PROS
+ Three water temperature settings available.
+ Self-cleaning model.
+ Light indicators show the temp settings and there's also an empty bottle indicator included.
+ Durable stainless steel housing.
+ Child Safety Lock on hot water.

CONS
– Can be a bit noisy.
– No internal filtration.
– Slightly expensive in initial and maintenance cost.

Avalon A5 – Best Bottleless Water Dispenser
Next up is another Avalon model, but this time, it's their bottleless water dispenser. Being bottleless means that you won't have to constantly purchase purified water for this dispenser. It relies on filters to clean the water already flowing into your home.
Lifespan and Cost: The originally installed filters should last for about six months. Once they need to be replaced, you can purchase replacement filters to keep your dispenser operational. A year's supply of replacement filters will cost around $200.
Apart from the fact that this does not require the usage of water bottles, this is essentially the same as the Avalon model detailed previously.
Great Features: It also offers three water temperature settings, a self-cleaning feature, and a child lock for the hot water spout to prevent any accidents. This model is also Energy Star approved.
Stainless Steel Housing: The durable stainless steel housing is featured once again and that will help prolong the life of this useful home appliance.
Considering how similar this is to the previously detailed Avalon dispenser, it should come as no surprise that it also has issues with noise. The noise is worth enduring for this kind of quality dispenser though.
PROS
+ Comes with filter, less hassle in storing water bottles.
+ Three water temperature settings available.
+ Self-cleaning model.
+ Light indicators show the temp settings and there's also an empty bottle indicator included.
+ Durable stainless steel housing.
+ Child Safety Lock on hot water.

CONS
– Can be a bit noisy.
– Slightly pricy on the maintenance cost.

Brio Commercial – Best Commercial Water Cooler
Brio is also in the business of providing quality water cooler dispensers and their products are worth knowing if you want to have more options. Their bottleless water dispenser has some standout features of its own.
Great Filtration: Reverse osmosis machines are more reliant more on flow rate and pressure to work effectively, but you can still expect to get clean water from this dispenser as these filters remove up to 99% contaminants.
Awesome Features: It offers three temperature settings – room temp, hot and cold water – and you can also engage the self-cleaning feature quickly by just pressing a button. Being energy star approved should allow you to easily keep this dispenser running frequently at home.
Lifespan and Replacement: The original filters included will last for six months. Replacing them can be a bit of a challenge, not because of difficult installation but because of cost. To secure replacement filters that will last for a year, you will have to spend $260.
The housing could be better as it's not made entirely from stainless steel, but the substitute material used still holds up pretty well all things considered.
PROS
+ Reverse osmosis internal filtration.
+ Three water temperature settings available.
+ Self-cleaning model.
+ Light indicators show the temp settings and there's also an empty bottle indicator included.

CONS
– Drain line is needed.
– Waste water will be produced.
– Slightly expensive in initial and maintenance cost.

hOmeLab Bottom Loading – Best Budget Water Dispenser
Even though water cooler dispensers are good investments for your home, they may not be accessible purchases for some. If you're looking to save some money on your own water dispenser purchase, this hOmeLabs creation should be right up your alley.
Affordable Price: It's available for under $200 and while that lower price tag may raise some eyebrows, you should know that this hOmeLabs offering is a high quality product.
Great Features: This dispenser also offers the same three water temperature settings and you don't have to worry about kids hurting themselves because there's a child lock installed. You're not getting the self-cleaning feature in this water dispenser, but the removable drip tray does make maintaining this item easier.
Fit up to 5 Gallons: You can also use water bottles that range in size from three to five gallons inside this bottom loading dispenser.
The durability of this water dispenser is not on the same level as some of the previously discussed items. It will still last for a long time in your home, but you may have to replace it sooner than some of the other options.
PROS
+ Drip tray is removable for easier cleaning.
+ Three water temperature settings available.
+ Affordable cost.

CONS
– No internal filtrations.
– No self-cleaning feature.
– Not as durable as some of the other water dispensers.

Brio Bottom Loading – Trusted Water Cooler Dispenser
Filling up water bottles can be tricky at times because of their narrow openings. This bottom loading water dispenser from Brio gets around that issue with a clever bit of design.
Great features: Three water temperature settings are available once more and you can also turn on the self-cleaning future for easier maintenance. A child lock is also included to prevent accidents.
Awesome Durability: The manufacturers of this water cooler dispenser have also invested heavily in its durability. It's fashioned out of stainless steel and aside from being durable, it also looks great in your kitchen.
Up to 5 Gallons: Water bottles that range in size from three to five gallons can be used inside this water dispenser.
Noise is a problem with this water dispenser. It's not a big deal, but it can be bothersome at times.
PROS
+ Light indicators for nighttime usage.
+ Three water temperature settings available.
+ Self-cleaning model.

CONS
– No internal filtration.
– Produces a lot of noise when working.

Avalon Countertop – Best Countertop Water Dispenser​
If you don't have a ton of space available at home, getting a standard-sized water cooler dispenser may not be a realistic option. Instead, you may want to look at a countertop item like this Avalon creation.
Non-Bulky: You should be able to easily find a spot for this water dispenser in your kitchen and because it's a bottleless model, you won't have to look elsewhere for those smaller water bottles.
It's hard to fit a larger container under one of the available spouts, but you should be able to fix yourself up a cup of coffee and a cold glass of water using this dispenser easily. The water does come out somewhat slowly though.
Self Cleaning: The self-cleaning feature included in this water dispenser is super convenient and one you should make use of whenever you can.
Child Lock: Don't worry about letting your kids use this water dispenser because there's a child lock that will protect them from being splashed with hot water.
Lifespan and Cost: To secure a year's supply of replacement filters for this bottleless water cooler dispenser, you will have to spend $200.
You would probably prefer this dispenser to be made from stainless steel instead of plastic. The durability does take a hit because of that.
PROS
+ Compact machine
+ Lights make it easier to use at night.
+ Self-cleaning model.

CONS
– Water tends to pour out slowly.
– Made of plastic.

Avalon A10-TL – Best Top Loading Water Dispenser
The Avalon A10-TL is one of the best water cooler dispensers for top loading models.
Visibile Low Water: Being a top-loading model means that it can be difficult to get a new water bottle on this dispenser. The upside to this design is that you will be able to tell early on if you're running out of water.
Stainless Steel Body: The stainless steel body is a great feature from a durability standpoint and the child lock on the hot water option makes this usable for kids. This is also an Energy Star approved dispenser.
Removable Drip Tray: You're not getting a self-cleaning feature for this water cooler dispenser, which is a shame. However, the drip tray is removable and an anti-bacterial coating has also been applied to it. A self-cleaning feature still would have been preferred, but those features at least help with routine maintenance.
Three water temperature settings are available for you to choose from. That makes preparing your favorite beverages easier. Exercise some patience with this dispenser though as it is slow when it comes to pouring.
PROS
+ Light indicators for nighttime usage.
+ Three water temperature settings available.
+ Self-cleaning model.

CONS
– No internal filtration.
– Water comes out slowly from this dispenser.

Primo Dispenser – Best Bottom Loading Water Dispenser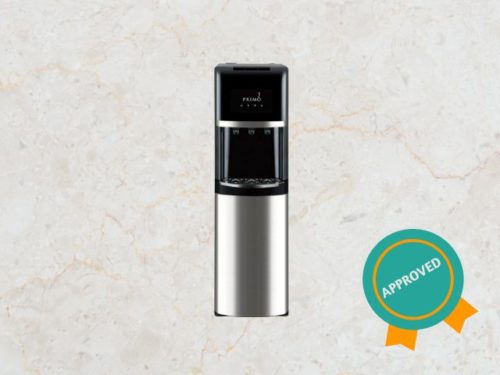 The next item on this list of best water cooler dispensers is a Primo bottom loading water dispenser.
Concealed Bottle: Being a bottom-loading model means that the water bottle is concealed in the water dispenser and having an aesthetic appearance. It houses up to 5 gallons of bottled water.
Stainless Steel Body: It is an energy stared approved dispenser with a stainless steel body and removable drip tray.
3 Temperature settings: The Primo bottom loading water dispenser comings with 3 temperature settings – cool, hot and cold temperature. It also comes with a one-push hot water and a child safety lock.
PROS
+ Child lock safety.
+ 3 water temperature settings.
+ Aesthetic appearance.

CONS
– No internal filtration.

Primo Dispenser + Pet Station – Best Pet-Friendly Water Dispenser
Type: Versatility has a new meaning with Primo's water dispenser that comes with a pet station. Families with pets can now serve their furry babies water fresh from the dispenser. After all, why should they drink stale water when you are not around?
The dispenser has a water bowl for your pet that attaches to it and can be filled at the push of a button.
Keeping in view the difference in dimensions of various houses, the dispenser manufacturer has provided multiple avenues for attachment of the water bowl. It can be attached either in front or by either of the sides of the dispenser as the space availability permits.
Besides this, the other features include twin temperature for water disposal that flows at a speedy rate. The machine also has a Spill-proof bottle holder with leak guard to allow you to leave a bottle unattended as it fills up.
The 6 ft power cord ensures that the dispenser can rotate 360O for convenience while the LED nightlight will not let you miss the device in the dark.
Special Features: Like the other models from Primo, this variant too has a child safety lock, stainless steel reservoir, BPA-free plastic parts, and dishwasher safe pet bowl, that make it extra safe for use for a family with kids.
Warranty: A 1-year limited warranty supports this top-loading dispenser and can be claimed against a defined range of errors.
Maintenance: The main part of the device that will need some effort from you is the reservoir. After having used it for a long time, the reservoir might attract sediments and water may start smelling funny. To avoid this, timely cleaning of the reservoir with readily available cleaning agents like vinegar is needed.
PROS
+ Gives flexibility of movement.
+ No installation hassles.
+ Safe for homes with children.
+ Long filter-life

CONS
– Top-loading design can be inconvenient

Costway 2-in-1 – Ice Maker Water Dispenser
Type: This list of Best Water Dispensers would be completely biased if we did not feature the Costway 2-in-1 water cooler which has a built-in ice maker.
The ice-making feature is what puts it on an elevated plane. After all, who doesn't like to have twin functions in one device?
The machine not only makes ice but makes it fast too.
You can bid farewell to filling ice trays and the entire circus surrounding them. Costway's 2-in-1 water dispenser makes 9 bullet ice cubes at a time in 6-14 minutes. It can make up to 27lbs ice per day.
The machine dispenses water at three different temperatures: room temperature, hot and cold water. The hot water is nearly boiling to make beverages or instant foods.
The sleek design adds to its aesthetic appeal and makes it appropriate in any corner of your kitchen.
Special Features: Apart from these features, the machine has an Anti-rust drip tray, a child-safety lock to prevent accidental burn injuries, user-friendly control panel for ice making, and LED indicators to show which mode the dispenser is operational in.
The dispenser is available in two colors, namely, silver and black
Warranty: The product is covered by a 90-day warranty and every complaint is resolved promptly and attended to by professionals.
Maintenance: The ice compartment will need occasional cleaning to maintain hygiene.
PROS
+ Makes ice in just 9-14 mins
+ Has triple ttemperature control
+ A responsive customer-care

CONS
– Somewhat expensive
– It's a noisy device

SOOPYK – Modern Water Cooler Dispenser
The last item on the best water cooler dispensers list is the SOOPYK bottom load water coolers.
Type: Another entry in our list of best water dispensers, SOOPYK bottom load water cooler flaunts a three-temperature setting that can dispense hot, cool, and cold water.
Being a bottom loading model means freedom from the stress and strain of having to lift and mount large water cans.
The dispenser has a built-in UV light that sterilizes the water, water pipes, and the water tanks. This prevents the build-up of harmful bacteria that result from a continuous flow of water.
Powered by the same cooling technology as a refrigerator, the high efficiency sealed compressor cooling system allows for fast cooling and dispensing. In other words, you don't need to wait for hours to get a glass of chilled water.
The machine requires zero investment in terms of installation. Just plug in the power cable and starts to run instantly. However, care must be taken to allow a few gallons to flow initially as the new tubing leave its odor.
Special Features: Soopyk has a food-grade steel inner body which is corrosion-free. Steel gives the users the peace of mind about the safety and that no harmful chemicals can leach from the tank's body no matter p high the temperature.
Another safety feature is the child-safety lock on the hot water spout that makes it useful even around small children.
And the ultimate seal of the safety of the product is its ETL listing that settles all debates, if any, surrounding its safety features.
Warranty: Information not available
Maintenance: The in-built UV-Light ensures that you don't need to even as much as lift your finger to ensure the hygiene of the dispenser and its parts. The UV-light is capable of eliminating bacteria of all kinds.
PROS
+ In-built UV light ensures hygiene.
+ Triple temperature control.
+ Enhanced saftey features.
+ Steel body allows for usage at high temperature without the fear of leaching chemicals.

CONS
– The machine is a bit bulky
– Th pump makes a bit of a noise

Types Of Water Cooler
Bottom Loading Water Cooler
This is quickly becoming the standard model for water cooler dispensers and for good reason. Bottom loading water cooler dispenser improves upon their top loading counterparts by relieving you of the job that entails having to lift heavy water bottles. You can just slide the water bottle into the allotted compartment and quickly have access to clean water.
Top Loading Water Cooler
Top loading water cooler dispensers are still around although they are declining in popularity with the arrival of the bottom loading options. The lone advantage they have is that they make it easier to monitor how much water is left in the bottle.
Countertop Water Cooler
Countertop water cooler dispensers are the best options to consider if you only have a limited amount of space available at home. You can still find countertop dispensers that make use of water bottles, but many of the newer ones are now using filters.
Bottleless Free Standing Water Cooler
The bottleless free-standing dispenser should be your top choice if you want the most convenient option. Many of these bottleless free standing models have filters that can last for six months in the average household. These models eliminate the need for you to constantly order water bottles.
Wall Mounted Water Cooler
Wall mounted dispensers work in the same way as the bottleless freestanding models in that they rely on filters, as noted by Newair. They don't take up as much as space the freestanding models, which could make them a better fit in some households.
Benefits of Using a Water Cooler Dispenser
Using a water dispenser has myriads of benefits. Here are a few that top the list:
Access to Copious Amounts of Drinking Water
A dispenser ensures that the supply of water does not die out. Whether you want hot water for a bowl of soup or, want a glass of chilled water to cool off on a hot summer day, the dispenser always has it ready.
Environmentally Sustainable
As opposed to having to buy bottled water and refrigerating them for daily usage, the dispenser provides an eco-friendly option. The water cans can be reused and thus, you do your bit in saving mother Earth from plastic pollution.
Temperature Variability
The same machine can dispense chilled as well as hot water. If the dispenser has a triple-temperature control you will get water at room temperature as well.
Cost-effective
Once again, compared to bottled water this is a cost-efficient option, especially, for the budget conscious users.
Easy to Maintain
These machines don't need periodic maintenance or replacement of their parts. Most of them will work well for years. All you need to do is clean the water tank regularly.
Cleaning & Maintenance
This is one of the best features of water dispensers. They operate well with periodic but minimal maintenance.
Some dispensers have an in-built self-cleaning ozone feature that disinfects and prevents build-up of bacteria. Yet others have a UV-light for the same function.
On the other hand, there are dispensers that need to be manually cleaned to remove scale formation, and to disinfect the water tank.
The following steps detail out the procedure:
First, disconnect the machine from power supply to avoid being electrocuted.
For a top loading water dispenser, remove the pin connecting the bottle with the unit.
Using a soft cloth and soap water, clean this point of contact.
Clean the reservoir with a mild soap and warm water and drain the water.
A bottom-loading water dispenser calls for washing the drip tray periodically.
Once cleaned, place a new bottle and plug in the dispenser to a power supply.
As a precaution, keep a check on the taste of water to know if the cleaning has been effective.
FAQ on Best Water Cooler Dispensers
Can I put tap water in my water cooler?
Tap water can be put in a water cooler if the dispenser has an in-built purification mechanism. Also, if you are sure of receiving only the purest water in your taps can you put it in your water cooler.
In case you live in an area that has hard water supply, the water can cause the reservoir to build scales over time. .
Is a water cooler cheaper than bottled water?
Definitely not. While bottled water is far easier to just grab from the fridge and drink, it is many times more expensive than sourcing water from a water cooler.
The upfront cost of a cooler-dispenser may feel heavy on one's pocket. But, in the long run it is far cheaper than bottled water.
Do water dispensers use a lot of electricity?
Any electrical appliance will consume energy and this will cost you a certain amount. Same is true for water dispensers too. Here's the cost calculation for running a dispenser in different modes.
Cold-Water Only Dispenser – 0.3 kWh of energy per day, $25.00 a year.
Hot-Water Only Dispenser – 0.5 kWh per day, $22 – $26 per year
Hot and Cold Water Dispenser – 2.8 kWh per day, $227.00 a year
With those numbers in view, you can decide if these machines are economical enough or not. They surely come with their set of advantages and make chilled or warm water readily available at all times. However, the cost may pinch some, while for others, it is the convenience that matters.
Are instant hot water dispensers safe for home?
The answer to this lies in the dispenser's safety features. If you have children or toddlers at home, it is imperative that you choose an instant hot water dispenser that has a safety lock to prevent the faucet from operating.
Wrap Up
Getting your hands on the best water cooler dispenser for your home is a good way to instantly improve your living space. Instead of having to constantly deal with small plastic bottles littered all over the place or warm water that can't quench your thirst during those hotter days, you can now enjoy the kind of water you want whenever you need it without producing a lot of waste.