How To Pick A Water Distiller?
For those shopping for a new distiller, the factors listed below are the ones that you should keep in mind while looking through the many products being offered.
Energy Consumption
You have to try to balance things out when you are evaluating how much energy the distiller uses.
On one hand, you don't want something that consumes plenty of electricity because it could leave a huge dent on your electric bill. Then again, picking out something with not enough power may lead to you purchasing a machine that takes too long to produce distilled water.
It's up to you to decide what kind of water distiller you want in your home.
Materials Used
For the housing of the water distiller, you can't go wrong with stainless steel. It's sturdy and easy to clean, qualities you want in an appliance that will be used daily.
When it comes to the container, try to look for one that is made out of thicker glass so that it won't crack even if it slips out of your grasp.
You should also look for machines that have a porcelain nozzle. That porcelain nozzle can preserve the quality of the distilled water by keeping it away from metal and plastic.
Distillation Speed
Many of the distillers you'll see produce a gallon of water every 6 hours. That's the standard today, but there are distillers that can produce clean water faster.
Cost and Maintenance
Expect to spend somewhere around $100 to $200 to acquire a new water distiller, although there are outliers that fall below and rise way above that price range.
Maintenance costs basically encompass how much replacement filters cost for the distiller. The majority of replacement filters are priced around $14 to $25, but those products should remain usable for a year.
Quality and Warranty
Make sure that the water distiller you're getting comes with a warranty. You never know when you might end up with a defective appliance and it's nice to have some protection just in case.
Water Distiller Review
MegaHome Distiller​ – Best Water Distiller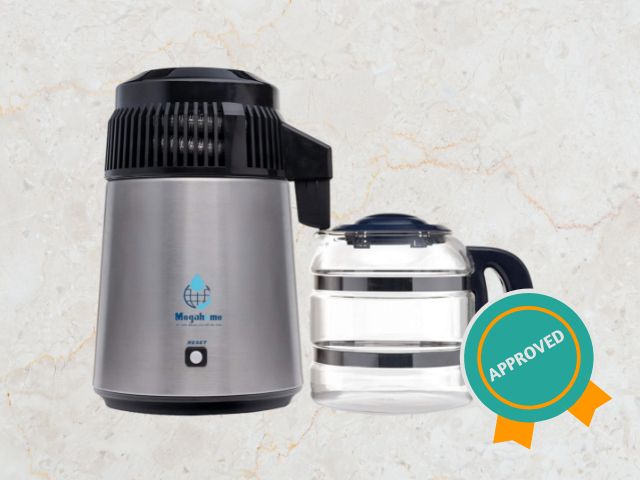 Production Rate: The Countertop Water Distiller from MegaHome possesses the ability to produce 1 gallon of water over 5.5 hours of work, which is a notable improvement over what most water distillers can offer. One of this water distiller's main selling points is its speed, but that's not all.
Material: Many of this water distiller's components are made out of highly durable 304 stainless steel. The stainless steel used throughout most of this water distiller is very easy to clean.
As for the pitcher, that part of the distiller is made from glass and unfortunately, it's a thinner type of glass that you need to be careful with.
Connecting the glass pitcher to the stainless steel distiller is a porcelain nozzle that is easy to work with. You don't have to worry too much about distilled water ending up on the counter instead of inside the pitcher.
Energy Consumption: Water placed inside this distiller boils at 212 degrees Fahrenheit and the appliance also has a wattage rating of 580.
Post Filter: The manufacturers have designed this water distiller in such a way that you can choose whether or not to use the included activated charcoal filters.
If you do decide to use the charcoal filters, you can more effectively get rid of different types of volatile organic compounds (VOCs) including chlorine.
Yearly Maintenance: Speaking of the filters, the manufacturers have included enough of them to last for about six months. Once you've gone through that initial supply, you can purchase a 12-pack of replacement filters that should last for a year for $16.
This distiller is backed by a 1-year warranty.
PROS
+ Produces 1 gallon of water every 5.5 hours.
+ Many components made from 304 stainless steel.
+ Porcelain nozzle is highly reliable.
+ Affodable Maintenance.

CONS
– Glass pitcher included is prone to cracking.
– Low Flow rate.

COZ Distiller – Best Budget Water Distiller
If there's usually no one around at your home who can spend the time keeping a close watch over the water distiller, then you may want to take a longer look at this CO-Z offering. When it comes to the speedy production of distilled water, it's hard to beat this product.
Fast Production Rate: This distiller from CO-Z is capable of producing clean water at a rate of a quarter gallon per hour. That comes out to 1.5 gallons of water every 6 hours. You simply won't see that kind of speed in many of the other water distillers on the market.
Over the course of the distillation process, the water inside this product can hit the peak temperature of 300 degrees Fahrenheit. Whether it's VOCs or other potential contaminants such as lead, you can count on this distiller to get rid of them.
Material: A word of warning though: This distiller tends to produce grease while working. The grease doesn't really get into the water, but it does make cleaning up more of an ordeal.
The stainless steel and plastic components used in this distiller would be easy to clean were it not for the grease.
Energy Consumption: This water distiller makes use of a 750-watt heating element and it already comes packaged together with charcoal filters.
Yearly Maintenance: Once the included filters run out, you can purchase a 12-pack of replacements for $15 and they should be good for a year.
CO-Z's Water Distiller comes with a limited 1-year warranty.
PROS
+ Capable of producing 1.5 gallons of water per 6 hours.
+ Boils water at 300 degrees Fahrenheit.
+ Affordable maintenance.

CONS
– Produces grease while working.
– Consume too high energy.

Mophorn Distiller – Best Flow Rate Water Distiller
High Flow Rate: The Countertop Water Distillation Kit from Mophorn is another example of a product that can quickly provide you with the distilled water you are looking for. Similar to CO-Z's creation, this product also produces 1.5 gallons of distilled water every 6 hours.
This water distiller also cranks the heat way up while working. It can boil the water at 320 degrees Fahrenheit.
If you're concerned about this distiller staying in that state for too long, the good news is that it comes with an auto shutdown feature that kicks into action once that 320-degree mark is hit.
Because of the high temperature that this distiller is capable of reaching, it is an even more potent eliminator of the potential contaminants that often infiltrate the water supply.
Energy Consumption: Manufacturers note that this distiller works at 750 watts.
Material: The distiller itself is made out of 304 stainless steel and the water container is fashioned out of shock-proof glass to improve its durability.
While this product certainly excels in many areas, there are two potential problem points that you do need to know about when it comes to this water distiller.
One of the issues is related to grease. The grease produced by this item doesn't impact the quality of the water you get, but it can make cleaning up harder.
The other issue is related to the absence of a switch. You will have to pull it out of the electrical socket to turn it off completely. That's never ideal for any appliance.
Yearly Maintenance: A year's supply of replacement filters for this distiller will run you about $15. It also comes with a 2-year warranty.
PROS
+ Capable of producing 1.5 gallons of water per 6 hours.
+ Boils water at 320 degrees Fahrenheit.
+ Comes with an auto shutdown feature.
+ 2 years warranty.

CONS
– Grease shows up in this distiller.
– Consume too high energy.

H2O Labs Distiller – Most Trusted Water Distiller
Energy Consumption: H20 Labs' Water Distiller operates at 565 watts and the high point of the water temperature inside this distiller is 212 degrees Fahrenheit.
Production Rate: It produces 1 gallon of water every 6 hours. That is also right in line with what you would expect from the majority of water distillers.
Material: 304 stainless steel is used for most of this water distiller, but the nozzle is made from porcelain, a nice touch that helps preserve the quality of water.
The glass used for the container is another matter altogether. It is on the thinner side and lacks the kind of durability you want to see from a product you will use on a daily basis.
The manufacturers claim that the pods are better at filtering out the contaminants in the water. From using them though, they seem to be right on par with the more conventional filters. That's not necessarily a bad thing since they are still effective cleaners.
Post Filter:In an attempt to set itself apart from competitors, this Water Distiller from H20 Labs makes use of different filtering mechanics to get the job done. Instead of relying on the usual activated charcoal filters, it utilizes specially designed activated carbon pods.
Maintenance: A replacement 6-pack of the carbon pods that will last for 1 year costs $25.
The manufacturers offer a 1-year warranty together with this water distiller.
PROS
+ Makes use of activated carbon pods.
+ Features a sturdy body.
+ Equipped with a porcelain nozzle.

CONS
– Glass container is not very durable.
– Low flow rate.
– Slightly higher maintenance cost.

Pure Water Distiller – Heavy Duty Water Distiller
It's good to have appliances that can be operated easily. You don't want to struggle using something that you need every day. With that in mind, the Mini-Classic CT Water Distiller from Pure Water is among the more user-friendly variants of this type of appliance.
You can use this distiller even with no water line connection.
Production Rate: This water distiller also works pretty quickly. It can provide 1.6 gallons of water every 7 hours.
Energy Consumption: It operates at 800 watts. There's no need to worry about the possibility of this appliance overheating as it is equipped with a safety shutdown feature.
Just like the other high quality water distillers, this offering from Pure Water easily eliminates the VOCs and other contaminants floating around in the water.
Material: The durable stainless steel housing allows this unit to stay in good condition for a very long time. You can expect it to last longer than many of the other water distillers that are available currently.
Yearly Maintenance: After a year, you may no longer have any of the original filters remaining. You can secure replacements that will be good for 1 year easily, but they do cost $27.
Pricing in general is an issue when it comes to this water distiller. It is significantly more expensive than the other products featured in this article.
Thankfully, the included warranties do provide plenty of protection. The electric components are covered by a 2-year warranty while the stainless steel parts are backed by a 15-year warranty.
PROS
+ Offers 1.6 gallons of water every 7 hours.
+ Solid stainless steel housing.
+ Stainless steel components covered by a 15-year warranty.
+ Safety shutdown features.

CONS
– Expensive cost.
– High energy consumption.

Waterwise 9000 – Modern Water Distiller
If water distillation units conjure up thoughts of a massive system occupying volumes and volumes of space, and gurgling distilled water, well… WaterWise will change that notion.
Certification: WaterWise 9000 is a countertop steam distiller that will not only distill tap water but also enhance the space. Its space-saving distiller is certified by WQA, against WQA S-400, for the reduction of TDS (Total Dissolved Solids).
Filtration Process: Since the steam distiller operates at 212 F (100oC), it successfully kills bacteria, cysts, and viruses present in water.
As the steam rises, it leaves behind all dissolved solids, salts, heavy metals, and other substances. Volatile gaseous impurities are also removed during the process.
The steam is collected in a stainless steel condenser, and the distilled water is finally passed through a coconut shell carbon filter to remove any traces of VOCs and collected in a Tritan™ collector/dispenser bottle.
Distillation/Production Rate and storage: The distiller produces 5.5 gallons of distilled water per day. In other words, it produces 1 gallon per 4.5 hours.
Also, it has a water storage capacity of 1 gallon.
Maintenance: Keeping the distiller in perfect working condition is a prerequisite in getting distilled water from it.
However, the modern water distillers like WaterWise 9000 do not demand heavy maintenance.
All you need to do is rinse the boiler with warm tap water to ensure the removal of residues from the preceding cycle. Excessive scales formed by repeated usage can be removed by the use of approved cleaners.
Nevertheless, care should be taken not to use these cleaning agents when the distiller is operational.
Warranty: The seller warrants against any manufacturing defects of the distiller minus the gaskets and the carbon filter. Warranty is valid for a period of one year and excludes all damages caused due to shipping/handling.
PROS
+ Space saving design.
+ Automatic shutoff after each 1-gallon cycle.
+ WQA certified.

CONS
– Required some maintenance.

Durastill Distiller – Commercial Water Distiller
Unlike the WaterWise distiller featuring earlier on this list, the Durastill 8 Gallon per day is a huge distillation system that occupies space and needs a dedicated corner in your home.
But the distiller is efficient at its job. Users who installed the machine long ago, are still happily reviewing it, and refuse to part with it.
Distillation Process: The Dursatill 8 GPD is a distiller that is manually filled by hand. Thus, the distiller requires no water connection and can work even when connections are absent.
The distiller has two compartments. The boiler is the part where all the action takes place, while the other tank stores distilled water.
Water flows out from a tap fitted to the latter compartment and can be collected in any container. Also, if needed, this tank can be fitted with a reservoir at a later time.
Just like any distillation apparatus, the device rids water of any biological or physical contaminant. VOCs find their way out through the volatile gas vent before condensation takes place.
Thus, the water that emerges is fresher than the dew.
Distillation/Production Rate and Storage: Durastill 30 produces one of the largest volumes of distilled water in a day.
As the name indicates, it distills 8 gallons of water per day making it one of the most efficient systems at offer.
However, it can store only 1.5 gallons of water and lacks a reservoir tank.
Maintenance: The machine has a built-in self-sterilization feature which makes it easy to clean.
The unit is fan-cooled. When the reserve tank is empty, simply flipping the fan switch off for a couple of minutes when steaming will ensure the tank is cleaned.
Warranty: The distilling unit comes with a warranty of one year against any workmanship defects.
Needless to say, defects caused due to shipping errors are not included in this.
It is noteworthy that H2o has one of the best customer services. As a buyer, you can rest assured of any technical guidance at any point in time.
PROS
+ High production rate.
+ Self-sterilization technology makes it easy to clean and maintain.
+ Stainless steel body is safe for water storage.
+ Float switch automatically turns off the distiller when the boiler gets low.

CONS
– Bulky system.
– Distiller needs to be filled manually.
– Holding tank needs to be watched over as it has a small capacity of 1.5 gallons.

H2OLabs 200 – Lightweight Water Distiller
Light in weight, light on the budget, the Model 200 is a yet another water distiller from H2o Labs for those who want a pocket-friendly distiller.
Compared to its stainless steel siblings from the same brand, Model 200 is purely made of BPA-free plastic and is hence ideal for the elderly or those who prefer portable distillation sets.
Distillation Process: Advertised as being easier to use than a coffee maker, Model 200 is the most convenient countertop distiller for your home.
The light-weight reservoir raises out for easy filling. This feature helps avoid having to put the entire system under the tap.
Fill it, set it, and forget it.
The distiller will do its job, and distillation will start in barely 5 mins. Your role is to fill the reservoir and sit back. The system will shut-off automatically when it has distilled one full gallon of water.
Distillation/Production Rate and storage: Model 200 produces 1 gallon of tap water in approx. 5 hours. It can distill up to 4 gallons a day.
However, you don't want to sit up till the middle of the night to make the machine run to its full capacity.
So, the volume of water distilled in a day stands at 3 gallons.
Maintenance: This portable distiller from H2o Labs is relatively light on maintenance.
You can run almost six cycles without thoroughly cleaning the unit. There is no need to clean the unit after every cycle.
This is because of the design and make of the machine parts.The "stick-resistant" boiling tray prevents scale build-up.
Also, the heating element is suspended in water which allows much of the scale particles to drop to the bottom of the tray. This ensures them to be easily rinsed away.
Further, the distillation unit comes with an anti-scale pad to get rid of scales as they form over time.
Warranty: The product comes with a warranty of one year that covers all parts and labor warranty.
PROS
+ An affordable countertop distiller.
+ Lightweight.
+ Easy to handle.

CONS
– The plastic body of the distiller is flimsy.
– The lime desposits on the element can be difficult to clean.
– Cleaning the system calls for dissembling it. This can be a bit messy.

Rovsun – Stainless Steel Water Distiller
Shiny stainless steel exteriors of the distillation chamber and the glass receptacle together make for one of the best looking distillation devices.
Don't let the small size fool you for the device packs one of the most powerful performances amongst the best water distillers of 2020.
Distillation Process: The ROVSUN comprises two units. The stainless steel chamber is where the distillation takes place, while the glass carafe with a steel cap is where the distilled water gets collected.
During the boiling process, the water does not come in contact with any plastic parts, thus, keeping it free from any plastic taste.
Distillation/Production Rate and storage: The distiller runs on 750 watts of power and can produce about a gallon of distilled water every 4 hours.
The carafe does not offer an option to store more than the 1.1 gallons of water which means that the distillation cannot continue unless the carafe is emptied.
The unit produces very little noise and can be therefore used overnight.
Maintenance: The distiller should be maintained as per the instructions issued by the manufacturer.
The tank calls for regular cleaning and should be kept dry.
If excessive scaling is observed on the stainless steel chamber, the cleaning agent that comes with the purchase should be made use of.
Warranty: ROVSUN promises a warranty of one year against any manufacturing defects.
PROS
+ Sleek and aesthetically pleasing distillers.
+ Small and compact size.
+ Water is not in contact with plastic while boiling.
+ Great customer support and service.

CONS
– Considering that it is a countertop distiller, it is priced on the higher-side.
– Sometimes, the water retains a rubbery/plastic-like smell.

What Is A Water Distiller?
Distilled water is 100% pure water.
It is devoid of contaminants of all kinds, both organic as well as chemical, microbes, dissolved solids/minerals, VOCs, and any other pollutant.
This kind of purified water is obtained by boiling regular tap water or water from any other source, to 212 F (100oC). At this temperature water vaporizes and the vapors are trapped in another container where it condenses to 100% pure water. The contaminants are left behind in the heating chamber/vessel.
How Does A Water Distiller Work?
Generally speaking, water distillers work in two stages.
Stage 1: it involves the initial processing of the water. Once water makes its way into the distiller and the appliance itself is turned on, the heating elements will proceed to boil the water.
The temperature at which the water is boiled can vary from one distiller to the next. You may find some distillers that can reach temperatures over 300 degrees Fahrenheit while others stay at around 212 degrees.
Stage 2: After the water has been boiled, the vapors produced are then collected by the distiller. The vapors are then cooled down until they turn back into liquid.
This process can take a bit of time, which is why most distillers need around 5 to 6 hours to produce a gallon of clean water.
With the clean water produced, all you need to do is to clean up the remnants left over from the initial boiling process.
The Usage Of Distilled Water
Distilled water finds a large number of uses. It is used for domestic as well as industrial purposes. Here is a summary:
Medical Industry: It is used for sterilizing surgical instruments and also for sanitizing and washing hands
Laboratory Use: It also finds use in labs where ionic impurities can hamper progress of the reactions.
Automobile engines: Distilled water is used in car and other automobile engines as a coolant.
Canned food industry also makes use of distilled water.
CPAP machines, which are used to open a person's airways during sleep to enable them to breathe, work better with distilled water.
Cosmetic industry also makes use of distilled water.
Further, it also finds use in steam irons where scaling can be prevented by making use of ion-free distilled water.
Domestic uses such as drinking, cooking and baking are some other uses of distilled water.
Cleaning glass objects and windows, where regular water may leave stains, with distilled water can give desired results.
What Is Removed By Distilled Water?
As stated earlier, distilled water has 0% contaminants of any kind.
Distillation systems produce water that is free from the following contaminants:
biological contaminants like bacteria, viruses and cryptosporidium
chlorine
arsenic
fluoride
lead
mercury
nitrate
trihalomethanes
dissolved solids (minerals, salts, metals, etc.)
Since water is heated to its boiling point and then cooled, the impurities are left behind and only pure water, in which the above listed impurities are absent.
Distilled Water Vs. Reverse Osmosis
Distillation and reverse osmosis produce nearly the same end result of purified water. But the difference lies in the process employed.
As mentioned earlier, distillation is the process of heating water to its boiling point. The volatile impurities in water vaporize while the insoluble ones are left behind. The microbes are killed at such a high temperature.
On the other hand, RO forces water through semi-permeable membranes that retain impurities and allow pure water to move ahead. Combined with an activated carbon post-filter, RO systems are capable of removing minerals, salts, and microbes from water, in addition to many organic and synthetic chemicals, and disinfectants and their byproducts.
Further, RO is a more convenient option for homes and offices. Once installed, it continually filters water without any human interference except for periodic change of filters. Distillers, on the other hand, will often need cleaning and scale removal to keep them in good condition.
Distilled Water Vs Spring Water
Spring water, as the name can tell, is water from natural springs that has been processed to remove unwanted substances. But what sets it apart from all other kinds of purified water is that the purification process retains its natural calcium and magnesium content which is good for health.
These dissolved salts and minerals also impart the distinct taste to spring water which others are devoid of.
Distilled water is simply tap water, purified to remove all kinds of dissolved solids and contaminants by heating it to a high temperature.
FAQ On Water Distiller
Is Drinking Distilled Water Bad For You?
Distilled water lacks the natural minerals present in it and hence is not the best form of water you can drink.
However, considering that water supplies only a small part of the mineral intake and most of it comes from food sources, drinking distilled water is not as bad as it has been marketed to be.
Does Drinking Distilled Water Impact Your Teeth?
Distilled water will not erode fluoride from your teeth. Distilled water is devoid of any fluoride present in municipal water but that is more than compensated for by the fluoride toothpastes.
Why Does Distilled Water Taste Flat?
Water gets its taste from dissolved salts and minerals. Since distilled water has none of these, it is tasteless and bland.
Is Distillation Costly?
Distillation sets run on electricity. To produce a gallon of distilled water, all they need is a few pennies and no more. That's totally affordable as an operational cost.
If you are wondering about the cost of a distillation sets, then you need to scroll right up to the top of this post where we have presented both pricey as well as affordable distillers in our list of best water distillers of 2020. There is one for every budget.
Do Water Distillers Need Filters?
Yes. But not the conventional huge filtration sets. It only needs a simple activated carbon filter that can remove the VOCs and give that final polish to the distilled water. Distillation process is ineffective against VOCs.
Is Drinking Distilled Water Good For Your Kidneys?
No. Kidneys filter water-soluble unwanted substances from the blood stream. Since distilled water introduces no extra minerals and salts, it poses no harm to it.
Can Babies Drink Distilled Water?
Yes. But, it is advisable only after 6 months of age. This is to ensure that the regular feed of the infant is not disrupted due to drinking water.
Wrap Up
If you want to make sure that your family has access to clean water at all times, strongly consider getting one of the best water distillers, the MegaHome Distiller. It can make a huge difference in improving the quality of life for you and your family.
If you are looking for another similar type of water filter, you could explore countertop filtration system or water pitcher due to their portability and easy to no installation. Check them out now.