All you need to know about Reverse Osmosis​
Reverse osmosis is a powerful technology that can be used to purify water and remove contaminants. It is an increasingly popular choice for drinking water systems in homes and businesses around the world due to its effectiveness and cost-effectiveness.
We will provide you with all the information you need to know about reverse osmosis and how it works.
Reverse Osmosis Buyer's Guide
When it comes to finding the right reverse osmosis system for your home, there are a few things you need to consider. This comprehensive buyer's guide will walk you through all the features and components of a reverse osmosis system so that you can choose the one that fits your needs best.
Did you know that Singapore has the cleanest tap water in the world?The government uses reverse osmosis(RO) as part of
What Is A Whole House Reverse Osmosis System? Reverse osmosis systems, usually known as a whole house RO system are
Are you wondering if the water you drink is actually pure? Maybe you are afraid you might contract a disease
Reverse Osmosis Learning Guide
Reverse osmosis is a process used to purify water by removing impurities and contaminants. It has become an increasingly popular method of purification due to its effectiveness, efficiency, and affordability. These guides will help you to learn more about reverse osmosis technology and how you use it to protect your family.
Does Reverse Osmosis Remove Fluoride? In an RO water filter, water passes through a series of reverse osmosis membranes at
Reverse Osmosis Product Reviews
For those wanting to buy reverse osmosis products, finding reliable reviews can help to make the best decision. A list of product reviews is available below, offering advice and information on the most popular models on the market today.
Aquasana has been very successful in their whole house water filter systems. How well does the reverse osmosis system perform?
iSpring is a US-based company that has a long history of creating reliable water filters in the market. In this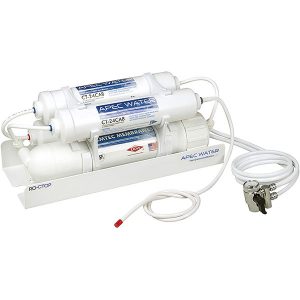 Only a handful of companies produce some of the best reverse osmosis water filters, and APEC is one of them. They
iSpring reverse osmosis system is well known for its reliability, quality, and value for money. There are several models in
For all those who wondered if a RO water filter can be sleek, slim, and yet be efficient at water
Home Master, or previously known as Tap Master has been on the market for the past 20 years. In the
Home Master is listed as one of our best reverse osmosis system for well water. Unlike APEC and iSpring, Home
Increased levels of water pollution and growing health awareness have increased the demand for point-of-use water purification and filtration systems.
One of the flagship models for APEC is ROES 50. Just how well is the top-tier reverse osmosis system compare
APEC reverse osmosis water filter system is a well know brand in town with 17 years of experience is producing