What Is A Whole House Reverse Osmosis System?
Reverse osmosis systems, usually known as a whole house RO system are a medium to filter water. Reverse osmosis filtration systems use a natural technology and a series of multiple filters to extract and remove any sort of contaminants.
The reverse osmosis system uses a semi-permeable membrane to pass water through to extract and eliminate pollutants, particles, and other dissolved substances.
What distinguishes a reverse osmosis system is its ability to remove the most minute and microscopic particles that any normal filtration system won't be able to remove.
Using a whole house RO system means that the end water quality result is far better and superior to what a normal filtration system could achieve.
A reverse osmosis system uses a reverse osmosis membrane to filter and clean water from any sort of water supply. Be it well water, saltwater, or recycled water, a reverse osmosis filter can filter it to produce clean drinking water.
It successfully removes any type of bacterial impurity, particles, contaminants, and dissolved pollutants. These include substances like chlorine, dirt, sand, mercury, lead, magnesium, arsenic, calcium, volatile organic compounds, etc.
Whole house reverse osmosis systems also get rid of any odors and unpleasant tastes that impurities leave behind.
Best Whole House Reverse Osmosis System Comparison
Image
PRODUCT/ Features
Rating

Top Pick

iSpring RCS5TFeatures: Includes a silver chrome drinking faucet and water pressure gauge
Price: $$
Flow Rate: 500 GPD
Annual Maintenance Cost: $100
Weight: 32.6 Pounds
Read Full Review
Crystal QuestFeatures: Includes SMART filter, sediment filter, and carbon block
Price: $$$
Flow Rate: 200 GPD
Annual Maintenance Cost: $290
Weight: 50 Pounds

Read Full Review
WECO HydroSenseFeatures: Includes a granular activated carbon post filter
Price: $$$
Flow Rate: 500 GPD
Annual Maintenance Cost: $350
Weight: 70 Pounds

Read Full Review
iSpring RCB3PFeatures: Removes up to 98% of lead
Price: $$
Flow Rate: 300 GPD
Annual Maintenance Cost: $100
Weight: 52 Pounds
Read Full Review
Apex CommercialFeatures: Multiple Carbon Filters
Price: $$$$$
Flow Rate: 1500 GPD
Annual Maintenance Cost: $260
Weight: 80 Pounds
Read Full Review
Express WaterFeatures: Includes KDF Filter
Price: $$
Annual Maintenance Cost: $340
Weight: 63 Pounds
Read Full Review
1. iSpring RCS5T (Top Pick)
The iSpring RCS5T RO model is one of the best whole house reverse osmosis systems. It has 5 stage filters each responsible to eliminate different types of contaminants. Filters 1-3 remove rust, odor, sand, and chlorine.
The 4th stage filter includes the Reverse osmosis membrane responsible for removing heavy metals, pesticides, and other heavy residues.
Not only does this system have a great capacity, but it has a dual flow feature that filters up to 500 gallons per day easily. Alongside this, this osmosis system saves up to 60% of water efficiently.
The iSpring RCS5T has a low waste feature that automatically drains contaminated water alongside cleaning and filtering.
Specifications
Item Dimensions: 14 inches x 11 inches x 18 inches
Item Weight: 32.6 Pounds
Item Model: RCS5T
Color: White
Features
1st stage filter includes a sediment filter
2ns stage filter has a granular activated carbon block filter
Boosts water pressure
Incurs low waste
Silver chromed water faucet with a 360-degree swivel
The iSpring RO system maximizes water pressure so you don't worry about low water pressure. In doing so it encourages the RO membrane for maximum functioning to produce filtered water.
The iSpring model is easy to install through quick video instruction or professional help as well! You'll need to frequently change the 1st-3rd stage filters regularly but the RO membrane lasts up to 6 months at least. iSpring RCS5T provides a 2 years filter package that cost $200 which translates to $100 a year.
Customer Rating
4.3 out of 5 stars.
PROS
+ Includes easy to read water pressure gauge
+ Ensures maximum water pressure
+ 5 filtration stages
+ Great for light commercial systems as well

CONS
– Gravitates towards the pricier side in addition to shipping costs

2. WECO HydroSense
Another great whole RO system is the WECO HydroSense. This system is adaptable for light commercial use as well as residential use.
To ensure it functions as efficiently as possible, this RO system is ideal for use in schools, offices, homes, etc.
Equipped with a pre-sediment and a compressed carbon filter, this reverse osmosis system removes dust, sand, chloramine, rotten odors, and chlorine.
With these systems, you also don't need to worry about a drop in water pressure. The WECO HyrdoSense includes an automatic booster pump and automatic water sensors to ensure the system functions at maximum capacity.
WECO osmosis systems have a thin-film reverse osmosis membrane to remove up to 98.5% of hard to remove impurities. This system can eliminate sodium, total dissolved solids, nitrates, mercury, and chlorine to give purified water.
Specifications
Item Dimensions: 15 inches x 20 inches x 34 inches
Item Weight: 70 Pounds
Item Model: 0500GAC
Color: Blue
Features
Uses a reverse osmosis membrane and carbon block
Filters hard impurities fast
Gets rid of dissolved solids
Removes harmful substances like mercuries and nitrates
In-installed booster pumps and water sensors
Although the WECO HydroSense includes the RO membrane and filtration, you'll need to access other parts to make it a whole house reverse osmosis system.
You'll need to purchase atmospheric tanks, jet pumps, and any additional equipment that may be required to make it into a whole house reverse osmosis system.
Annually the RO membrane replacement will cost around $350. The filter replacement costs range between $700-$800.
Customer Rating
3.8 out of 5 stars.
PROS
+ Available in multiple model choices to choose from
+ Best for commercial and residential systems
+ Thin-film composite membrane
+ Built-in booster pumps for maximum efficiency

CONS
– A single unit is costly
– Other equipment to make it a whole house system will incur more costs.

3. iSpring RCB3P
The RCB3P is another great reverse osmosis water filter model brought by the iSpring company.
This model is a reverse osmosis water filtration system that rids your whole house's water supply of up to 1000 impurities and contaminants.
Since it acts as both a water filtration system as well as a water softener, this model effectively removes most of your problems.
The RCB3P removes magnesium, calcium, mercury, total dissolved solids, arsenic, fluoride as well as chlorine from your water supply. It also effectively removes up to 98% of lead.
They are also great for light commercial use to produce a high water quality supply.
The iSpring also makes for a good home reverse osmosis system because they come with in-built booster pumps. This increases the water pressure to ensure maximum filtering and water flow.
The iSpring RCB3P alongside its previously mentioned model also uses powerful booster pumps to drain and reduce wastewater.
Their most attractive feature includes a highly efficient RO membrane that provides your whole house with up to 300 gallons of purified water a day.
Specifications
Item Dimensions: 14 inches x 10 inches x 30 inches
Item Weight: 52 Pounds
Item Model: RCB3P
Color: Blue
Features
Removes heavy metals and other toxins easily
Maintains high water pressure
5 stage filters
Booster pumps and water pressure gauge included
The RCB3P is only compatible with an iSpring storage tank. You can use this model with an 11 or 20-gallon storage tank.
However, this model does not come with a storage tank and you'll need to additionally purchase one.
Annual filter maintenance costs can go up to $340 with annual RO membrane replacements costing $170 annually.
Customer Rating
4.1 out of 5 stars
PROS
+ All-in-one reverse osmosis filtration system
+ Guarantees to remove up to 97% of dissolved impurities
+ Provides clean and purified tap water
+ Promotes high flow rate

CONS
– Uses a considerable amount of electricity
– Leans towards a high-end price for RO systems

4. Crystal Quest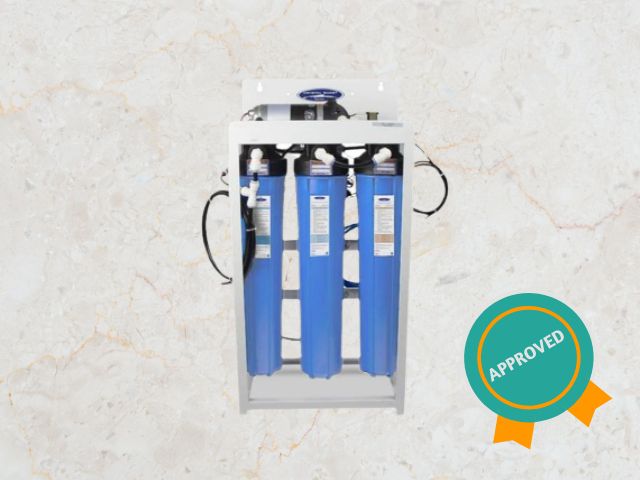 With more than 25 years of experience, Crystal Quest also provides the best whole house reverse osmosis system.
They focus on making whole house RO systems that make your daily water supply clean and healthy to consume.
These systems are designed and engineered to require the least amount of maintenance and to be economical for you.
This system filters and purifies up to 200 gallons of water per day. It contains pre-filters that extend the life of your RO membranes. Through this, your RO membranes can last up to 15 or 20 years.
The crystal quest includes a water storage tank with several other components. The water tank can hold a capacity of 550 gallons. The tank also contains a pump to increase the flow rate and to pump water to your whole house when needed.
To stop wastewater, these house RO water filters have a float switch to turn your RO system on or off when needed.
Furthermore, these reverse osmosis filtration systems remove total dissolved solids, microbiological contaminants, and other hard water impurities.
They give different options to enhance the alkalinity of your water supply to provide healthier drinking water.
Specifications
Item Dimensions: 31 inches depth x 61 inches height
Item Weight: 50-265 pounds
Item Model: CO02022R
Color: Blue
Features
ISO certified
Different storage tanks included
Removes microbiological contaminants
Lightweight design
The Crystal Quest whole house reverse osmosis filtration system is a great choice to go for. It removes any hard water and additional contaminants present in your water supply and is easy to use.
The expected cost of replacement filter for Crystal Quest system is around $580 across 2 years, which translates to $290 per year,
Customer Rating
4 out of 5 stars.
PROS
+ Multiple add on options to choose from
+ Multiple options for membrane size, pre-filter sizes, and storage tank sizes to choose from
+ Removes up to 15 grains per gallon of hard water
+ Compact design takes up less space

CONS
– Very expensive
– Can use between 110-220 Volts of power

5. Apex Commercial
The apex commercial whole house reverse osmosis filter is best for its hydroponic treatment. One of the best filtration systems for reverse osmosis filtration, the Apex commercial system can remove minute thin particles present in the water supply.
This whole house reverse osmosis system has 3 stages of filters each designed to remove different impurities and particles from the water.
It contains 2 20 inches of carbon block filters alongside a sediment filter to remove chlorine, sand, dust, and other odors.
All 3 filters have a membrane housing to ensure maximum functioning and removal at each stage.
Displayed on the reverse osmosis system is easy to read in pressure gauge and out pressure gauge. The system has a maximum pressure capacity of 150 pounds per square inch and a readable pressure pump.
Specifications
Item Dimensions: 26 inches x 12 inches x 37 inches
Item Weight: 80 Pounds
Item Model: MRC1500
Color: Blue
Features
Steel frame coated in a white powder
5 micron 20-inch sediment filter
10 micron 10-inch carbon block filters
Includes recycle and concentration valves
Brass rotary high-pressure pump
Flip switch to turn off or on
The Apex commercial house reverse osmosis systems don't require much maintenance. You will need to regularly change the sediment and carbon filters only.
The RO replacement costs $518 for 2 years, with filter replacements costs up to $260 a year.
Customer Rating
5 out of 5 stars.
PROS
+ 10-micron carbon filter removes harmful substances that create odors
+ 5-micron sediment filter eliminates any impurity that clogs
+ Softens water automatically
+ Gets rid of hard water problems
+ Ideal for light commercial use as well
+ Economical price

CONS
– Requires at least 110 volts of power

6. Express Water
With the Express Water whole house water filtration, you'll be able to eliminate any sort of impurity in your water supply.
Equipped with 3 stage filters, this whole house water filter is great for light commercial use as well. The first filter; an activated carbon filter removes any chlorine, unpleasant odors, and tastes.
The second filter is a Kinetic Degradation Fluxion (KDF) which removes volatile organic compounds, pesticides, and any industrial solvents.
The 3rd stage filter is a sediment filter that removes any dust, sand, and dirt that may cause clogging. Overall these filters remove toxic substances like lead, arsenic, and mercury.
They're easy to maintain by replacing the water filter cartridges. The Express water filter cartridges are designed to make sure your filtration system is always running at maximum capacity.
With their compact design, the Express water systems take up less space and are easy to install. They have a capacity of 0.25 gallons that guarantees no drop in water pressure and flow rate.
Specifications
Item Dimensions: 23.5 inches x 8.5 inches x 29.25 inches
Item Weight: 65 pounds
Item Model: WH300SCKS
Color: Blue
Features
Stainless steel frame to protect the filtration system
Pressure gauge monitoring for each filter
Allows monitoring the system's performance
Point of entry installation
Standard 1 inch connection for easy installation
Although this system is easily maintained, all you need to do is replace the cartridges for the filters every 6 months. On average one cartridge can filter up to 100,000 gallons of water during a 6-month duration.
A whole house 3 pack filter cartridge set will cost you up to $340 annually since you only have to replace it twice a year.
Customer Rating
4.7 out of 5 stars.
PROS
+ Easy to install
+ Saves wastewater
+ Easily accessible filter removal buttons
+ The system lets you know when the cartridges need replacement
+ Free support for a lifetime

CONS
– Doesn't remove total dissolved solids
– Pricey option

How Does A Whole House RO System Work?
All whole reverse osmosis systems make use of a semi-permeable membrane. Although natural reverse osmosis makes use of a membrane to pass a high concentration solution into a low concentration solution, reverse osmosis does the opposite!
A whole house RO system is installed at the point of entry so your water supply gets passed through the RO system to supply clean water to your whole house.
The reverse osmosis system makes use of a semipermeable membrane and external pressure is applied to the solution. By doing this we achieve our aim of separating our solvent from the impurity. In this case whatever your water supply may contain.
This doesn't mean a semi-permeable membrane also filters all other sorts of impurities to make it a whole house reverse system.
To complete the reverse osmosis system into a whole house RO system you need to attach and purchase additional filters. These may include sediment pre-filters, activated carbon filters, and kinetic degradation fluxion.
It's important to note that the lower the water quality, the higher the external pressure exerted to separate impurities.
Additionally, you need to keep in mind the quality of your water supply that needs to be filtered. If you live near an industrial plant, your water will be more contaminated with hard metals and toxins.
These whole-house RO systems need an atmospheric water storage tank. This ensures that purified and filtered water doesn't run out!
In the end, once the impurities are removed, they are prevented from entering the clean water supply. The contaminated water is transferred to a different stream that is then let out.
Therefore, with the help of pressure, a whole house reverse osmosis system removes impurities to ensure the demineralization and desalination of your water supply. This also therefore automatically works as a water softener alternative since it eliminates hard minerals.
How To Pick A Whole House RO System?
RO Systems are costly. That's why it's necessary to look at all the relevant costs and factors especially before purchasing a whole house RO filter or system.
Required Components
A whole house RO system consists of other components besides the reverse osmosis membranes themselves. To make it a whole house RO system, you need pre-treatment, post-treatment, storage, and distribution components too.
Some systems, however, don't always require atmospheric storage tanks since they aren't compatible with them. Non-atmospheric storage tanks can be used to ensure your home always has a clean water supply in this case.
Another component you need is a booster pump. Since atmospheric tanks aren't pressurized, a booster pump exerts the pressure required.
Overall, even though you need these components, it's equally crucial to have good quality components as well.
Capacity and Sizing
Getting the proper-sized whole house RO system is the key. This depends on how much water your household consumes on average.
On average a regular 4 people sized family, uses up to 100 gallons of water per day individually which amounts to approximately 400 gallons of water a day.
Experts recommend purchasing systems that have double the capacity of water you consume. In this example 800 gallons. But just because a system has a filtering capacity of 500 gallons doesn't necessarily mean it'll deliver 500 gallons per day.
This depends on the filtration system capacity working alongside. This factor is also dependent on how many gallons of water you're using during peak hours. This is why it's also precautionary to purchase a large storage tank for a continuous supply.
It also matters that you get a system that provides you with the flow rate required. If the RO system's flow rate is low, you'll experience a low water pressure.
Pre-Treatment
If you're living in an area where the water is particularly contaminated, you'll have to acquire pre-treatment filters.
Pre-filtration systems may include carbon, and sediment filters primarily. Carbon pre-filters remove impurities like sand, dust, rust, and chlorine, etc. Other specialized filters can be used to eliminate toxins, and hard metals like sulfur, etc.
If you have a high hard water concentration, a water softener system can be used to prevent harm to your RO membrane.
To know what exactly your water supply contains you should conduct a water quality test.
Post-Treatment
Since RO membranes remove any trace of impurity from your water, in doing so, your water is demineralized. After filtration calcite filters are used to increase the water's pH level and prevent corrosion and rust from influencing the water taste.
Aside from alkalization post-treatment, other post-treatment includes UV light to additionally kill off viruses and bacteria.
Maintenance and Installation
Overall, a whole RO system is easy to install yourself. If you're handy with installation, that'll be a piece of cake for you.
However, if you're unsure you can always call on for a professional installation.
The pre-filters and post filter treatments require maintenance consistently. You need to keep them clean to acquire clean water.
The carbon filter and sediment filters need to be changed every month which won't cost much. On average RO Membranes last between2 to 3 years.
Cost
Expect that your whole RO system will cost you anywhere starting from a couple of hundred dollars to thousands of dollars.
This doesn't always include the cost of additional components you may need such as storage tanks etc.
Overall, it will mount up to a big investment but it's worth it!
Wastewater
Older RO systems used to waste on average 6-7 gallons of water per day. This makes up for a huge water bill and a waste of resources.
To lessen your water bill and be economical, modern systems have recycled valves to redirect wastewater back into the system. These systems can recover up to 70% of wastewater to purify.
These systems also have a drain system to let out excess water. This is because an accumulation of wastewater in your septic tank can overburden the system.
Benefits and Disadvantages
Benefits
Improvement In Water Taste and Food
RO filtration systems disinfect, purify, and eliminate any unpleasant tastes and smells. This results in superior water quality and healthy drinking water.
Healthy Skin and Hair
Hard water minerals aren't only problematic for your water appliances, but your skin and hair. Calcium and magnesium if not removed rid your scalp and skin of their moisture.
If you shower with hard water it results in dehydrated skin and hair. RO systems take care of this to only include healthy minerals as a result of post-treatment filters.
Easy to Maintain
A traditional water softener system or filtration system is difficult to maintain. Especially in a salt-based water softener, you need to take consistent care of the system's salt and resin tank upkeep.
On the other hand, an RO system is fairly simple to handle and maintain. RO membranes last a long time, for at least 6 months.
The only other form of maintenance is changing the pre-treatment filters for maximum efficient capacity.
Healthy Drinking Water
With an RO system, the biggest advantage is that you get healthy drinking water to every faucet and tap. You can enjoy clean and purified tap water whenever.
Reverse osmosis is one of the best-acclaimed technologies for water filtration and purification. It is the most healthy water to consume. With no chemicals, impurities, dissolved solids, or volatile substances.
It is proven to remove 99.99% of hard metals, toxins, bacteria, and viruses. Alongside this, the system's post and pre-filter treatments entirely disinfect the water.
Money Savings
It is more affordable to maintain and spend on an RO system once than regularly purchasing bottled water.
Initially, it seems like a big cost and investment and may be overwhelming, but with an RO system's guaranteed technology you won't regret it!
Customization
With an RO system, you can get any sort of water treatment filter required. Depending on the quality of your water's hardness and contaminants, any sort of filter can be attached.
Disadvantages
Increased Wastewater
Although modern RO systems attain to be more economical. However, to eliminate impurities and contaminants excess water needs to be drained.
This is also a necessary step since holding drained water overwhelms your system and bars it from functioning effectively.
It's also important to note that a whole house RO system will therefore operate on a larger scale and produce more wastewater.
Demineralization
The only way RO systems remove up to 99.99% of impurities is because it also removes any necessary or unnecessary minerals.
This also includes healthy minerals like magnesium and calcium that are healthy for you. But they need to be removed to stop their effects.
Costly
RO systems do not come cheap. They require additional components which aren't equally cheap.
You also will have to spend equally on installation if done by a professional.
FAQ on Best Whole House Reverse Osmosis System
How Much Does A Whole House System Cost?
An RO system can cost between $300-$3500. This depends on the brand and size of the unit you're acquiring.
Price also depends on the additional components you may have to purchase to make it a whole house RO system. This doesn't include the cost of the installation process.
On average a top-notch whole house RO system can cost approximately $1000.
Is Reverse Osmosis Water Healthy to Drink?
Reverse osmosis systems produce optimum and superior quality water. This water is healthy for you to consume as well.
This is because it removes any harmful metals, toxins and disinfects your water.
Do I Need A Whole House RO Filter If I Own A Water Softener?
A water softener is specifically intended to remove hard water minerals from your water; calcium and magnesium. These systems don't promise to filter or disinfect your water supply further.
However, whole house RO filters are beneficial since they are the all-in-one water filtration system to disinfect and purify your water.
What Is The Cost To Replace The System's Filters?
RO installation and purchase costs aside, there are monthly filter replacement costs to consider.
If you purchase a cheaper RO unit, you might end up spending more on filter replacements.
This makes you spend more in the long run than you did initially.
Modern and expensive units will require higher quality filters, therefore, having a higher cost.
Conclusion
The aforementioned are some of the best whole house reverse osmosis systems available. With these features and prices, you'd be missing out if you didn't nab yourself one!